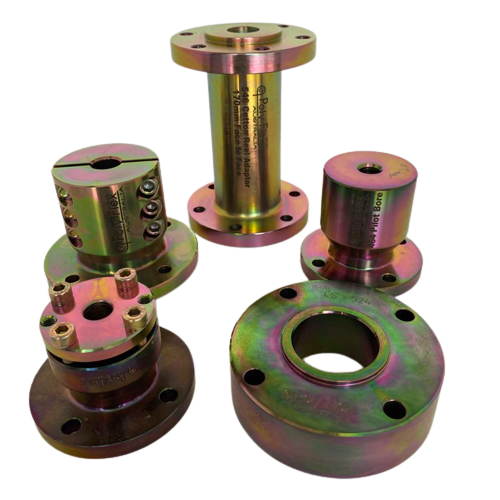 Poly Flex steel half couplings, coupling spacers and custom cotton reel adaptors are all CNC machined and designed in our facility, they are a steel mating component which is used between the gearbox and the output shaft, with or without a flexible coupling.
Adapter plates and cotton reel adaptors are available on request.
Metal components are plated in SA5 cobalt zinc for maximum corrosion resistance and durability.
Parallel Clamp Steel Half Couplings
Swipe or scroll right to view all table data →

| Model | Flange OD | PCD | Bolt Hole Clearance | Spigot Diameter | Spigot Type & Depth | Shaft Size | Body Length | Boss Diameter | Weight kg |
| --- | --- | --- | --- | --- | --- | --- | --- | --- | --- |
| 424 | 101.6mm | 78mm | 4 x 11mm | 50mm | Male 2.4mm | 16 - 38mm : 5/8 - 1 1/2" | 89.5mm | 70.9mm | 2.4 |
| 434 | 4" | 3 1/4" | 4 x 10.5mm | 2 1/2" | Male 2.6mm | 16 - 38mm 5/8 - 1 1/2" | 89.5mm | 70.9mm | 2.4 |
| 434F | 4" | 3 1/4" | 4 x 10.5mm | 2 1/2" | Female 3.8mm | 16 - 38mm 5/8 - 1 1/2" | 89.5mm | 70.9mm | 2.3 |
| 434P | 4" | 3 1/4" | 4 x 10.5mm | 2 5/8" | Female 3.8mm | 16 - 38mm 5/8 - 1 1/2" | 89.5mm | 70.9mm | 2.3 |
| 464 | 101.6mm | 80mm | 4 x 10.5mm | 60mm | Female 3.8mm | 16 - 38mm 5/8 - 1 1/2" | 89.5mm | 70.9mm | 2.3 |
| 494 | 101.6mm | 74.5mm | 4 x 8.5mm | 47mm | Female 3.8mm | 16 - 38mm 5/8 - 1 1/2" | 89.5mm | 70.9mm | 2.4 |
| 524 | 5" | 4 1/4" | 4 x 11.5mm | 2 1/2" | Male 3.5mm | 22 - 50mm 7/8 - 2" | 93.5mm | 80mm | 3.6 |
| 528 | 5.24" | 4 1/4" | 8 x 11.5mm | 2 1/2" | Male 3.5mm | 22 - 50mm 7/8 - 2" | 93.5mm | 80mm | 3.7 |
| 534 | 127mm | 100mm | 4 x 10.5mm | 65mm | Male 3.5mm | 22 - 50mm 7/8 - 2" | 93.5mm | 80mm | 3.6 |
| 546 | 4 3/4" | 3 7/8" | 6 x 11.5mm | 2 1/2" | Female 4.5mm | 22 - 63mm 7/8 - 2 1/2" | 116.1mm | 95mm | 5 |
| 616 1/2" A | 6" | 4 3/4" | 6 x 13mm | 3" | Male 5mm | 38.1 - 76mm 1 1/2 - 3" | 135.3mm | 119.5mm | 9.1 |
| 616 1/2" B | 6" | 4 3/4" | 6 x 13mm | 3" | Female 5.7mm | 38.1 - 76mm 1 1/2 - 3" | 135.3mm | 119.5mm | 9.1 |
| 616 5/8" | 6" | 4 3/4" | 6 x 16.5mm | 3" | Female 5.7mm | 38.1 - 76mm 1 1/2 - 3" | 135.3mm | 119.5mm | 9.1 |
Pilot Bored Steel Half Couplings
Swipe or scroll right to view all table data →

| Model | Flange OD | PCD | Bolt Hole Clearance | Spigot Diameter | Spigot Type & Depth | Shaft Size | Body Length | Boss Diameter | Weight kg |
| --- | --- | --- | --- | --- | --- | --- | --- | --- | --- |
| 424 | 101.6mm | 78mm | 4 x 11mm | 50mm | Male 2.4mm | 16 - 38mm 5/8 - 1 1/2" | 89.5mm | 70.9mm | 2.6 |
| 434 | 4" | 3 1/4" | 4 x 10.5mm | 2 1/2" | Male 2.6mm | 16 - 38mm 5/8 - 1 1/2" | 89.5mm | 70.9mm | 2.7 |
| 464 | 101.6mm | 80mm | 4 x 10.5mm | 60mm | Female 3.8mm | 16 - 38mm 5/8 - 1 1/2" | 89.5mm | 70.9mm | 2.5 |
| 524 | 5" | 4 1/4" | 4 x 11.5mm | 2 1/2" | Male 3.5mm | 22 - 50mm 7/8 - 2" | 93.5mm | 80mm | 3.9 |
| 528 | 5" | 4 1/4" | 8 x 11.5mm | 2 1/2" | Male 3.5mm | 22 - 50mm 7/8 - 2" | 93.5mm | 80mm | 3.9 |
| 534 | 127mm | 100mm | 4 x 10.5mm | 65mm | Male 3.5mm | 22 - 50mm 7/8 - 2" | 93.5mm | 80mm | 4.1 |
| 546 | 4 3/4" | 3 7/8" | 6 x 11.5mm | 2 1/2" | Female 4.5mm | 22 - 63mm 7/8 - 2 1/2" | 116.1mm | 95mm | 5.4 |
| 616 1/2" A | 6" | 4 3/4" | 6 x 13mm | 3" | Male 5mm | 25 - 76mm 1 - 3" | 135.3mm | 119.5mm | 9.9 |
| 616 1/2" B | 6" | 4 3/4" | 6 x 13mm | 3" | Female 5.7mm | 25 - 76mm 1 - 3" | 135.3mm | 119.5mm | 9.9 |
| 616 5/8" | 6" | 4 3/4" | 6 x 16.5mm | 3" | Female 5.7mm | 25 - 76mm 1 - 3" | 135.3mm | 119.5mm | 9.9 |
Taper Lock Steel Half Couplings
Swipe or scroll right to view all table data →

| Model | Flange OD | PCD | Bolt Hole Clearance | Spigot Diameter | Spigot Type & Depth | Shaft Size | Body Length | Boss Diameter | Weight kg |
| --- | --- | --- | --- | --- | --- | --- | --- | --- | --- |
| 424 | 101.6mm | 78mm | 4 x 11mm | 50mm | Male 2.4mm | 16 - 31.75mm 5/8 - 1 1/4" | 76.5mm | 65mm | 1.6 |
| 434 | 4" | 3 1/4" | 4 x 10.5mm | 2 1/2" | Male 2.6mm | 16 - 31.75mm 5/8 - 1 1/4" | 76.5mm | 65mm | 1.6 |
| 464 | 101.6mm | 80mm | 4 x 10.5mm | 60mm | Female 3.8mm | 16 - 31.75mm 5/8 - 1 1/4" | 76.5mm | 65mm | 1.5 |
| 524 | 5" | 4 1/4" | 4 x 11.5mm | 2 1/2" | Male 3.5mm | 22 - 44.45mm 7/8 - 1 3/4" | 90.6mm | 80mm | 3.2 |
| 534 | 127mm | 100mm | 4 x 10.5mm | 65mm | Male 3.5mm | 22 - 44.45mm 7/8 - 1 3/4" | 90.6mm | 80mm | 3.3 |
Custom Parallel Clamp Steel Half Couplings
Swipe or scroll right to view all table data →

| Model | Flange OD | PCD | Bolt Hole Clearance | Spigot Diameter | Spigot Type & Depth | Shaft Size | Body Length | Boss Diameter | Weight kg |
| --- | --- | --- | --- | --- | --- | --- | --- | --- | --- |
| 4" SB | 4" | As Required | As Required | As Required | As Required | 16 - 38mm 5/8 - 1 1/2" | 89.5mm | 70.9mm | 2.6 |
| 5" SB | 5" | As Required | As Required | As Required | As Required | 16 - 38mm 5/8 - 1 1/2" | 89.5mm | 70.9mm | 3.4 |
| 6" SB | 6" | As Required | As Required | As Required | As Required | 16 - 38mm 5/8 - 1 1/2" | 89.5mm | 70.9mm | 4.2 |
| 5" MB | 5" | As Required | As Required | As Required | As Required | 22 - 50mm 7/8 - 2" | 93.5mm | 80mm | 3.9 |
| 6" MB | 6" | As Required | As Required | As Required | As Required | 22 - 50mm 7/8 - 2" | 93.5mm | 80mm | 5.1 |
| 5" LB | 5" | As Required | As Required | As Required | As Required | 22 - 63mm 7/8 - 2 1/2" | 116.1mm | 95mm | 5.6 |
| 6" LB | 6" | As Required | As Required | As Required | As Required | 22 - 63mm 7/8 - 2 1/2" | 116.1mm | 95mm | 6.9 |
| 6" XLB | 6" | As Required | As Required | As Required | As Required | 38.1 - 76mm 1 1/2" - 3" | 135.3mm | 119.5mm | 10.1 |
| 7" XLB | 7" | As Required | As Required | As Required | As Required | 38.1 - 76mm 1 1/2" - 3" | 135.3mm | 119.5mm | |
| 8" XLB | 8" | As Required | As Required | As Required | As Required | 38.1 - 76mm 1 1/2" - 3" | 135.3mm | 119.5mm | |
| 9" XLB | 9" | As Required | As Required | As Required | As Required | 38.1 - 76mm 1 1/2" - 3" | 135.3mm | 119.5mm | |
Custom Pilot Bored Steel Half Couplings
Swipe or scroll right to view all table data →

| Model | Flange OD | PCD | Bolt Hole Clearance | Spigot Diameter | Spigot Type & Depth | Shaft Size | Body Length | Boss Diameter | Weight kg |
| --- | --- | --- | --- | --- | --- | --- | --- | --- | --- |
| 4" SB | 4" | As Required | As Required | As Required | As Required | 16 - 38mm 5/8 - 1 1/2" | 89.5mm | 70.9mm | 2.6 |
| 5" SB | 5" | As Required | As Required | As Required | As Required | 16 - 38mm 5/8 - 1 1/2" | 89.5mm | 70.9mm | 3.4 |
| 6" SB | 6" | As Required | As Required | As Required | As Required | 16 - 38mm 5/8 - 1 1/2" | 89.5mm | 70.9mm | 4.2 |
| 5" MB | 5" | As Required | As Required | As Required | As Required | 22 - 50mm 7/8 - 2" | 93.5mm | 80mm | 3.9 |
| 6" MB | 6" | As Required | As Required | As Required | As Required | 22 - 50mm 7/8 - 2" | 93.5mm | 80mm | 5.1 |
| 5" LB | 5" | As Required | As Required | As Required | As Required | 22 - 63mm 7/8 - 2 1/2" | 116.1mm | 95mm | 5.6 |
| 6" LB | 6" | As Required | As Required | As Required | As Required | 22 - 63mm 7/8 - 2 1/2" | 116.1mm | 95mm | 6.9 |
| 6" XLB | 6" | As Required | As Required | As Required | As Required | 38.1 - 76mm 1 1/2" - 3" | 135.3mm | 119.5mm | 10.1 |
| 7" XLB | 7" | As Required | As Required | As Required | As Required | 38.1 - 76mm 1 1/2" - 3" | 135.3mm | 119.5mm | |
| 8" XLB | 8" | As Required | As Required | As Required | As Required | 38.1 - 76mm 1 1/2" - 3" | 135.3mm | 119.5mm | |
| 9" XLB | 9" | As Required | As Required | As Required | As Required | 38.1 - 76mm 1 1/2" - 3" | 135.3mm | 119.5mm | |
Custom Taper Lock Steel Half Couplings
Swipe or scroll right to view all table data →

| Model | Flange OD | PCD | Bolt Hole Clearance | Spigot Diameter | Spigot Type & Depth | Shaft Size | Body Length | Boss Diameter | Weight kg |
| --- | --- | --- | --- | --- | --- | --- | --- | --- | --- |
| 4" TL | 4" | As Required | As Required | As Required | As Required | 16 - 31.75mm 5/8 - 1 1/4" | 76.5mm | 65mm | 1.7 |
| 5" TL | 5" | As Required | As Required | As Required | As Required | 22 - 44.45mm 7/8 - 1 3/4" | 90.6mm | 80mm | |
Steel Shaft Coupling Spacers
Swipe or scroll right to view all table data →

| Model | Flange OD (G) | PCD (F) | Bolt Hole Clearance | Spigot Diameter (E) | Spigot Type & Depth | Thickness (A) | Weight kg |
| --- | --- | --- | --- | --- | --- | --- | --- |
| 424 | 101.6mm | 78mm | 4 x 11mm | 50mm | Male 2.6mm Female 5mm | 30mm | 1.5 |
| 434 | 4" | 3 1/4" | 4 x 10.5mm | 2 1/2" | Male 2.6mm Female 5mm | 30mm | 1.5 |
| 464 | 101.6mm | 80mm | 4 x 10.5mm | 60mm | Female 5mm Male 2.8mm | 30mm | 1.5 |
| 524 | 5" | 4 1/4" | 4 x 11.5mm | 2 1/2" | Male 3mm Female 5mm | 38mm | 3 |
| 534 | 127mm | 100mm | 4 x 10.5mm | 65mm | Male 3mm Female 5mm | 38mm | 3 |
Custom Steel Shaft Coupling Spacers
Swipe or scroll right to view all table data →

| Model | Flange OD (G) | PCD (F) | Bolt Hole Clearance | Spigot Diameter (E) | Spigot Type & Depth | Thickness (A) | Weight kg |
| --- | --- | --- | --- | --- | --- | --- | --- |
| 4" CSP | 4" | As Required | As Required | As Required | As Required | 30 mm | 1.8 |
| 5" CSP | 5" | As Required | As Required | As Required | As Required | 38mm | 3.7 |
| 6" CSP | 6" | As Required | As Required | As Required | As Required | 38mm | |
| 7" CSP | 6" | As Required | As Required | As Required | As Required | As Required | |
| 8" CSP | 6" | As Required | As Required | As Required | As Required | As Required | |
| 9" CSP | 6" | As Required | As Required | As Required | As Required | As Required | |
Steel Shaft Coupling Adaptor
Swipe or scroll right to view all table data →

| Model | Flange OD (G) | PCD Gearbox Shaft Side | Bolt Hole Clearance Gearbox Shaft Side | Spigot Diameter Gearbox Shaft Side | Spigot Type & Depth Gearbox Shaft Side | Thickness (A) | Weight kg |
| --- | --- | --- | --- | --- | --- | --- | --- |
| 434 to 424 | 4" (101.6mm) | 3 1/4" 78mm | 4 x 10.5mm 4 x 11mm | 2 1/2" 50mm | Male 2.6mm Female 5mm | 15mm | |
| 434 to 464 | 4" (101.6mm) | 3 1/4" 80mm | 4 x 10.5mm 4 x 10.5mm | 2 1/2" 60mm | Male 2.6mm Male 2.8mm | 15mm | |
Custom Cotton Reel Adaptors