Flywheel damper plates are utilised throughout multiple industries for a large amount of machinery. They are a fundamental component that keeps machinery working efficiently by absorbing noise and vibrations generated by the mechanical component. Flywheel damper plates are used within the marine industry to absorb the gear noise and vibrations in the gearbox when used at low speeds. The flywheel damper plate is attached to the flywheel with bolts and works by dampening vibrations from the drive train.
During a flywheel damper plate's life cycle, they are often subject to high levels of stress. If your drive train becomes noisy, there is a possibility the flywheel damper plate might need replacing. High levels of vibration causing noise could lead to fatigue and cracks. Once cracks are present, further operation could lead to the entire plate failing. Another sign of flywheel damper plates needing replacement is when they are improperly centred. Loosening the flywheel bolts and checking that the flywheel damper plate is in the correct position and the bolting holes are not worn will help it operate efficiently and prolong replacement.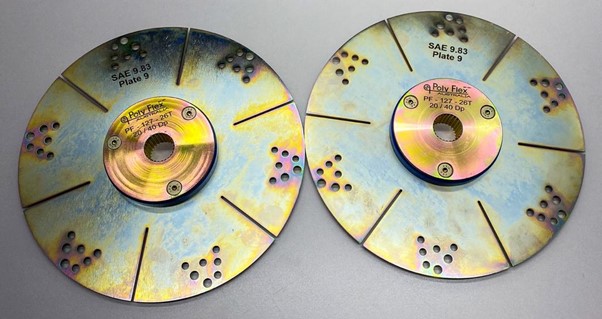 The Poly Flex flywheel damper plate is designed to reduce gear noise, spline wear and to isolate torsional vibrations at lower speeds. This is achieved by designing various harnesses of the damper used between the two drive plates varying from 80 to 1000Nm, suiting engines up to 700 horsepower. The flexible vibration isolation plates are made from a heat cured engineering polymer elastomer which has good heat resistance qualities and isn't affected by salt water, diesel, or lubrication oils. They are designed as a failsafe flywheel damper plate to maintain the drive if the flexible element fails. For the highest quality, our flywheel damper plates are SA5 zinc coated to inhibit rust for extended life.
Poly Flex manufactures a wide range of flywheel damper plates in Brisbane that we are continuing to expand. At present, Poly Flex has five spline types and fourteen backing plates suiting a wide range of gearboxes including but not limited to: Baysan, Borg Warner, Newage PRM, Paragon, Technodrive, TMP, Twin Disc, Volvo, and ZF – Hurth. In addition to our readily available stock, Poly Flex has the capability to custom manufacture special installation flywheel damper plates to suit different PCD patterns or thicknesses. Along with three different flexible hardness elements, Poly Flex has the capability to provide customers with any requirements they have.Poly Flex are leading damper plate manufacturers and damper plate suppliers, supplying the world with Australian made flywheel damper plates. For more information regarding our extensive range of flywheel damper plates, including our entire stocked range, please click here. For enquiries regarding custom installations, please contact us today.