A coupling for an engine is a flexible disc that acts as a damper between gearbox and output flange. This damper aims to isolate torsional vibration that occurs from the engine and gearbox. The flexible disc also reduces the impact of forward and reverse gear changes. Poly Flex flexible couplings for engines are a soft element in a shaft assembly to improve performance and will operate as a sacrificial element purposely designed to shear before damage to the gearbox occurs. Our flexible couplings for engines are used in many driveline applications. Poly Flex's unique ability to manufacture custom parts and modify our range of couplings to suit any installation make us highly experienced across all industries.
Poly Flex recently undertook the refurbishment and rebushing of an industrial steel coupling to suit a 153 horsepower Gardener 6L3 which was installed in a Tasmanian Government train built and commissioned in 1948.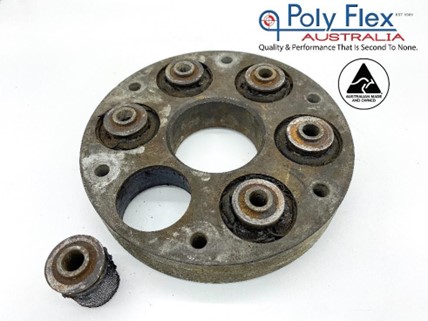 The Bellarine Railway are currently giving this train some TLC including a repaint, rust repairs and a gearbox swap so it can return to its former glory and carry passengers once again. This train is one of ten remaining. It was originally built with a 204 horsepower Gardener 8L3, however was converted to the 6L3 as they didn't have enough spare engines to keep the entire fleet going with the 8L3 engines at once. This particular train is the last one fitted with the 6L3 engine.
The original steel and rubber inserts were rusted, tarnished and falling apart. Poly Flex started by making new steel inserts in our CNC lathe and mill, matching the originals and plating them in SA5 cobalt zinc. This will ensure they are resistant to rust for many years to come. The steel inserts were designed with support ridges so our polyurethane would grip and not pull apart with use.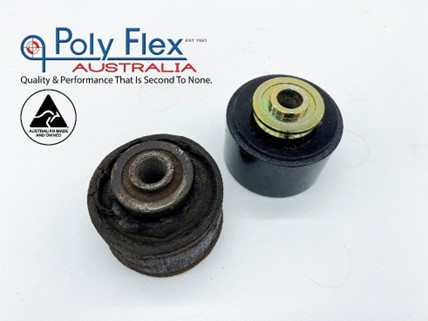 The inserts were given to our mould shop and black 90A durometer polyurethane was moulded around them. They cured at 100 degrees for 24 hours and had a slight angle machined on the back edge as per the original design before the inserts were pressed into the outer coupling for the engine.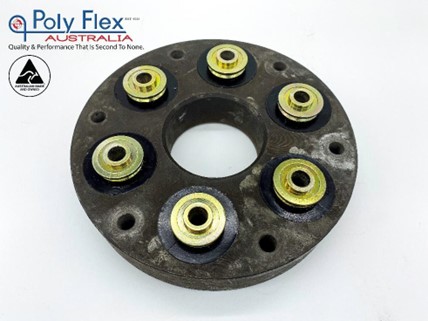 With an extensive range of flexible couplings systems and the ability to custom manufacture steel and polyurethane parts, Poly Flex truly is a one stop shop for all industries needing Australian made vibration control products.
For more information regarding Poly Flex flexible couplings, click here. For enquiries regarding custom manufacturing for any industry, contact us today.