Poly Flex are trusted flexible coupling suppliers in Brisbane. Poly Flex commenced in Australia in 1981 and has continued to expand both in product range and areas of export. Poly Flex manufactures engine mounting systems, flexible disc couplings, and steel shaft couplings which are all available with DNV Type Approval.
With over 300 flexible disc coupling models ranging from 10 horsepower to 2500 horsepower, we can respond quickly to our customers' requirements and have created a worldwide distribution network. Poly Flex targets excellence in product design and development, constantly expanding our product range and growing our company with all Poly Flex products proudly designed and manufactured in-house. Our in-house production makes us trusted coupling manufacturers for many years.
A flexible disc coupling provides a damper between the gearbox and the output flange which isolates torsional vibration and reduces the shock of forward and reverse gear changes. Our couplings work in conjunction with engine mounting systems to provide the softest element in the shaft assembly. This improves performance and provides a sacrificial link that is designed to fail before gearbox damage occurs.
Poly Flex are most famous for being coupling suppliers for boats, however our flexible disc couplings also service a wide range of different industries. With Poly Flex's extensive range of flexible disc couplings, they are designed to cover a large percentage of gearboxes, including but not limited to, Twin Disc, ZF, Dong-I, Borg Warner, Bukh, Newage, Paragon, Technodrive, Volvo and Yanmar. While our couplings were originally designed for marine use, these couplings are utilised in many industrial driveline applications.
Poly Flex flexible disc couplings are moulded from engineering heat cured polymer alloys of the highest standards, and all metal components are plated in SA5 Cobalt Zinc, increasing the metal life that normal zinc plating would give by 600%.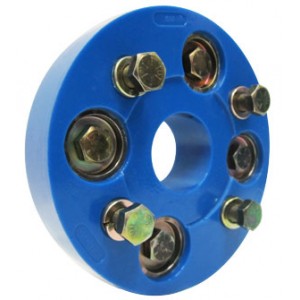 All our Flexible Disc Couplings are machined on a purpose-built flange jig and have a maximum runout of 0.002 inch or 0.05mm. Spigots are also machined to tolerance within +/- 0.002 inch or +/- 0.05mm.
To ensure maximum strength, durability and performance all flexible disc couplings are dispatched with installation guidelines which outline the process. All installation manuals outline the recommended torque ratings for the bolts used that screw into our couplings. All flexible disc couplings are provided with nuts and bolts ready to install, they require no further machining and bolt between existing shaft flanges.
As your trusted coupling suppliers, Brisbane is home to Poly Flex and has been since 1981. We have a strong focus on providing great customer service and solutions for any application with advanced polymer technology for vibration control. Poly Flex coupling manufacturers are proudly Australian, designing and producing these products locally.
For more information regarding our extensive range of flexible disc couplings including our coupling and transmission cross reference, please click here.