Engine mount suppliers need to analyse the engine set-up or equipment to be mounted and tailor the core to isolate the maximum levels of vibration and durability. This way, you will know how the isolator will perform before installation.
Poly Flex's high quality, durable and robust true propulsion mounting systems have controlled thrust and lateral deflection under propulsion load and inertia due to sea conditions. Poly Flex will analyse the engine set-up or equipment to be mounted, and tailor the mounting system and core durometer to determine the maximum levels of vibration and durability they can withstand. This way, we can establish how the mounting system will perform before installation.
As specialist engine mount suppliers, Poly Flex can assure this performance is achieved with our one-of-a-kind testing equipment that Poly Flex designed and manufactured over twenty years ago. All mounting systems that Poly Flex design and manufacture take on vigorous testing to assure the engine mount matches our high standards. As engine mount suppliers, designers and manufacturers, Poly Flex is certified with Det Norske Veritas (DNV) type approved products, one of the world's leading certification bodies, helping businesses assure the performance of their organisations, products, people, facilities and supply chains.
A standard test includes measuring data across all durometer cores used within the questioned mounting system and graphing the results. This allows Poly Flex to know exactly how much deflection our products can handle inverted, horizontally and vertically in relation to the engines overall weight, horsepower and the vessels use.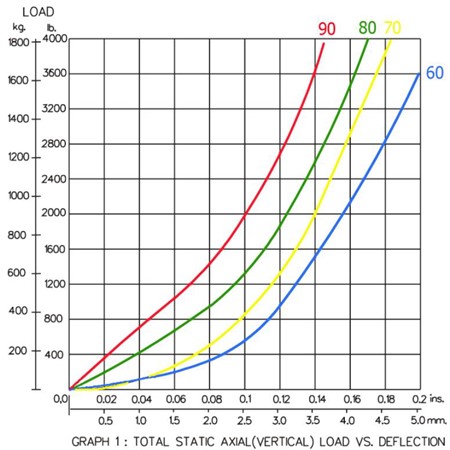 Pictured above is a graph generated after our Poly Flex Mount P#12.5F125-12-24(_) underwent testing. This graph allows us to see what core durometer would be most suited to an application. For example, if a customer required a mounting option for their 1200kg, 218HP CAT engine in a pleasure craft, Poly Flex would analyse our graph and determine a (70) core durometer would be his ideal solution. This is due to each mount handling 300kg each and that measurement falling within the ideal 2.0-2.5mm deflection range.
As engine mount suppliers, we pride ourselves on knowing how our mounting systems will perform in all applications. Our one-of-a-kind testing machine uses a hydraulic press and weight plates to apply force on all angles, inverted, horizontal and vertical, of the mounting systems till failure. This testing allows Poly Flex to accurately generate graphs and determine the overall weight our engine mounts can handle. All Poly Flex mounting systems are regularly tested to assure DNV type approval is achieved, and every new designed and manufactured mounting system is tested before becoming available to the public.
All Poly Flex engine mounting systems are proudly designed, manufactured and tested in-house. This means nothing but Australian made quality and performance that is second to none is leaving the factory floor, making Poly Flex reliable engine mount suppliers.
For more information regarding Poly Flex Mounting Systems click here, including our Core Replacement and Engine Mount Assembly Procedure. For enquiries regarding replacement mounts, contact us today.