Poly Flex Group PTY LTD is an Australian company and, since commencing in 1981, has continued to expand both in product range and export areas. Poly Flex proudly designs and manufactures polyurethane engine mounts, including custom engine mounts.
Poly Flex are experienced worldwide engine mount suppliers based in Brisbane, Australia. All our polyurethane engine mounts are designed and manufactured in-house, allowing Poly Flex to modify and produce custom engine mounts. With a strong focus on customer service Poly Flex is well-versed in modifying our polyurethane engine mounts to suit any application.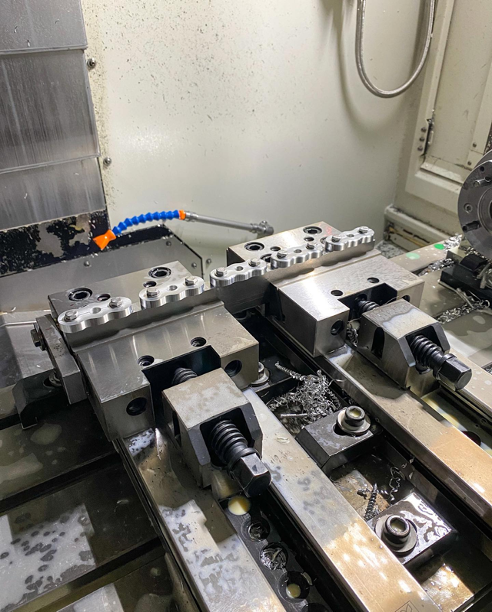 Every order to leave Poly Flex is designed and manufactured to suit the requirements of each customer. Everything from setup to vessel use is considered, making Poly Flex the preferred worldwide marine supplier for custom engine mounts.
When finding the appropriate polyurethane engine mount for a customer's application, we first determine what will fit in the customer's space without them needing to carry out modifications. This is achievable by determining the bolt centre measurement (E), the minimum adjustment height (J), and the stud size (F). Sometimes, an off-the-shelf polyurethane engine mount will not suit the customer's application, and a custom engine mount will be needed. Poly Flex can modify and produce custom engine mounts to overcome issues including but not limited to height restrictions, thicker engine mounting brackets, and the inability to lift the engine.
With our high-tech, state-of-the-art CNC machinery, we do extensive custom work for companies and customers. Our machines are set up to provide highly accurate and cost-effective means of machining custom engine mounts to suit our customers' requirements. Along with our fully equipped manufacturing facility, which includes a versatile range of processing machinery, our in-house master and mould shop allows us to produce custom engine mount orders quickly and reliably.
Poly Flex design and manufacture a wide range of custom engine mounts for industries such as marine, mining, defence, agricultural, industrial, commercial, and automotive. For more information regarding our custom engine mounts, please contact us today.